The security provided by access control
Ensuring the security of your premises, managing the flow of users, ensuring flexibility, guaranteeing continuity of service in the event of a problem and ensuring the scalability of the system – these are the challenges of an access control solution.
Let's not forget that the main mission of access control is above all security: authorising or refusing entry to a given user is pointless if the door can be easily forced open.
Locking, and more specifically the lock, is at the heart of the access control system, ensuring that the authorisations and/or prohibitions issued to the user are properly applied.
In France, nearly 3 out of 4 managers (72%) have experienced at least one crisis in the last five years.
Only 44% of French companies have set up a dedicated, structured team to respond to different crises (PSSI; RSSI).
CDVI solutions
Fully secure: CDVI's secure protocol, programmed at the factory and unique in the industry, ensures end-to-end encryption between the card, the reader and the A22K door controller (high encryption level: AES256 (military grade)
10,000 users / 250 profiles or access levels available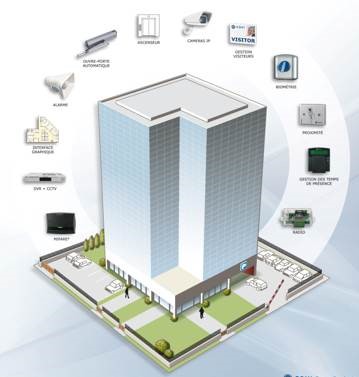 Ease of use
With so many different products on the market, the different systems on offer have varying degrees of technical sophistication.
Installers need to be increasingly well-informed and trained in the technologies and methods of installation to ensure that a secure and effective access control solution is put in place over time.
In addition, end-users want to have a choice of access authorisations to suit their needs. As a result, the dematerialisation of credentials is becoming increasingly popular.
Market studies show that 20% of companies will be using smartphones instead of physical access badges in the next few years. (5% in 2020)
CDVI solutions
Easy programming: Plug & play Krypto range.
Integration of the output reader option: each A22K controller supports the input/output reader, 2 readers per door. Simple commissioning via switch.
A wide choice of access modes (credentials, biometrics, plate number recognition, etc.).
Integrated Bluetooth Low Energy: smartphone technology gains ground against traditional access control media
Peace of mind for business owners and their employees
Finally, the systems we propose must be future-proof, flexible and scalable.
Future-proof because the system can be updated over time without any constraints.
Flexible, because the profiles can be configured according to your needs and to your company's specific access times and zones.
Scalable as your business grows, whether by creating new zones or increasing the number of accesses, schedules or profiles.
CDVI Solutions
Remote firmware update: upgrade your reader at any time.
Simplified management of access profiles
Multi-protocol: reads Mifare Classic and DESFire EV2 13.56 MHz identifiers
System capacity: 250 control units, each managing 2 doors. 10,000 users, up to 25,000 stored events. GDPR compliant